IM1500
The new IM1500 was designed using years of research and development. The IM1500 offers outstanding technology designed to maximize efficiencies in ice production and ice storage while reducing both electric and water costs. The IM1500 is a perfect blend of production, price and performance – setting a new standard in the ice vending industry.
A Perfect Blend of Production, Price and Performance.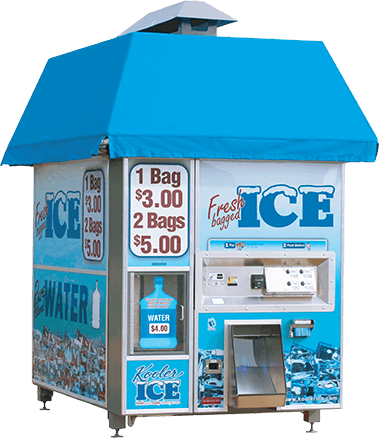 Leaders in Innovation and in Technology
Remotely manage their machines with a smartphone app, laptop or desktop.
Place the machine in free vend mode, reset the bill validator and turn the unit on or off remotely.
Keep track of how much money is in the machine at all times.
Pull numerous sales reports including daily, weekly and monthly reports from phone or desktop.
Remotely monitor the Scotsman Ice Maker for alerts and cycle time.
IceTalk monitors over 20 different systems to keep you in the loop with your machine at all times.
"Work Smarter – Not Harder" with the IceTalk Remote Monitoring System.
Machine Options
5 Litre to 15 Litre Water Vending Station
Filtered or Reverse Osmosis Filtration System
Credit / Debit Card Reader
Light Kit Available on 1-4 Sides
Cold Weather Package for the Ice Maker
Heater with Thermostat
Bollards
The IM1500 Provides Big Production
BIG PRODUCTION
The IM1500 can be equipped with one or two icemakers. This means
you can expand the production capabilities of the machine in the field
as your ice business grows. The second icemaker can be added in the
factory or in the field in less than four hours. Each icemaker can function
independently, allowing the owner to operate one or two icemakers
depending upon the volume requirements of the operating season.
INNOVATIVE BIN DESIGN
The IM1500 holds up to 680kg of ice in its 50mm thick, double walled,
insulated ice storage bin. Like a high-end cooler's construction, this
tightly sealed bin is easy to clean as compared to a stainless steel bin
design. Additionally, the machine requires no refrigeration. This means
lower utility costs when compared to other ice vending machines.
WATER VENDING
The IM1500 can be equipped with an optional Water Vending Station
to add a secondary income source to your machine. It features a
commercial grade reverse osmosis filtration system or a standard
filtration system, dependent upon your water quality. Water vending is an
efficient and inexpensive way to increase revenue and profits by allowing
your customers to fill 5 litre and 15 litre bottles with fresh filtered water.
CASHLESS VENDING
The IM1500 can be equipped with a credit card reader that will take
debit, credit, Apple Pay and Android pay. Kooler Ice free vend coupons
are also available to market the machine and help with special
promotions. In the event your customers want to use cash, the IM1500
can take all coins and notes for all your customers payment needs.
Machine Features
Features one Scotsman C1848 Prodigy Ice Maker
(Rated at 700kg of Ice in 24 Hours)
Additional Icemaker may be added to Increase Production
50mm Thick Double Walled, Insulated Ice Storage Bin
680kg of Ice Storage Capacity
240 Volt Single Phase Power, 32 Amp Service
20mm Water Supply Line with 50mm Drain-line
High Strength, Corrosion Free, Aluminum Alloy Frame
ICE TALK Communication System
Siemens Electronics and Cellular Modem
Eye-Catching High Gloss Lexan Graphics
Compact Design with Easy Access to All Components
Easy Bag Changing System – Holds up to 500 Bags
Unique Bag Tracking System for Consumer Safety
Adjustable Vend Rate (from $.05 to $99.95)
MEI Extended Note Cartridge – Holds up to 750 Notes
Multiple Volume Vending Options – 5kg / 10kg or 7kg / 14kg buttons available